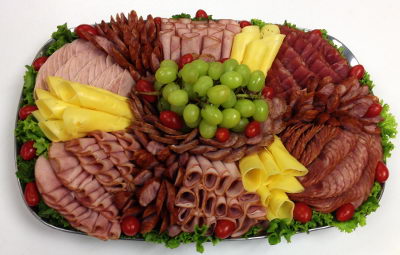 Everyone loves sandwiches and adding a little flavor of ham or sausage is always a great idea!
To meet your taste we offer a variety of meat products for example:
Smoked Ham,
Canadian Bacon,
Tyrolska (Tyrolian) Ham,
Ham Sausage,
Bologna,
Hunter Bacon,
Veal Wieners,
Pork Wieners,
Frankfurters,
Veal Brats,
By the way you can also order a plate with cold cuts and cheeses just like the one on the picture above! Just call us and tell us what would you like on it.
---