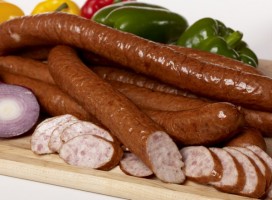 There simply cannot be Polish food without a good sausage. Period!  We have got them as well and we offer following types:
Smokey Links,
Country Sausage,
Original Sausage,
Hunter's Sausage,
Krakow Dry,
Garlic Sausage,
If you love Salami, we also have excellent choice of Hungarian meat made by one of the best companies on the market who specialize in this type of food –  "Bende". We carry following products of this manufacturer:
Gyulai Smoked Sausage,
Smoked Bacon,
Night Stick,
Scout Sausage,
Csabai Salami,
Hungarian Salami,
Enjoy!
---